Garrett Pro-Pointer Pinointer
Vibrating Alarm—No need to remove your headphones!
 Propointer
With Belt Holster, battery,two year warranty Free Shipping
The Professional's Pinpointer
Ten Reasons you need the NEW Garrett PRO-POINTER: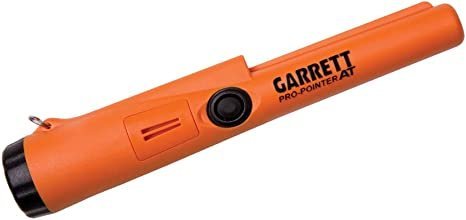 1. FIND TARGETS FASTER!
Static detection speeds target recovery.
2. YOU'RE GETTING CLOSER…
Audible AND vibrating alarms increase in
intensity based on target's proximity!
3. AUTOMATICALLY ADJUSTS…
Microprocessor circuitry insures maximum
sensitivity with no tuning necessary.
4. PINPOINTING TIP AND
SIDE SCANNING CAPABILITY
in one pinpointer. Owner's manual ofers
easy tips on special pinpointing abilities of
this incredible detector.
5. GARRETT-PROVEN QUALITY
Brought to you by the manufacturer of the world's
top-selling ACE 250 and GTI 2500 metal detectors.
6. LED FLASHLIGHT ASSISTS
in low light condition recoveries.
7. WOVEN BELT HOLSTER…
is included to conveniently secure the PRO-POINTER
to standard size belts.
8. SO MANY USES…
Search walls and tight spaces for caches…fnd metal
pipes in walls or nails in drywall to locate studs.
9. SIFTING BLADE TO SCRAPE
through soil during target recovery.
10. IT'S WATER RESISTANT…
The PRO-POINTER can be washed in
running water or used in the rain.
NEW Garrett
PRO-POINTER :
Part No. 1166000