Introducing the Garrett ACE 400 Metal Detector
Metal detecting enthusiasts and treasure hunters alike are always on the lookout for the latest advancements in metal detecting technology. With the introduction of the Garrett ACE 400 Metal Detector, the search for hidden treasures has reached new heights. Packed with cutting-edge features and exceptional performance, the ACE 400 is a game-changer in the world of metal detecting. In this article, we will provide an overview of the ACE 400 metal detector and delve into its impressive features and performance.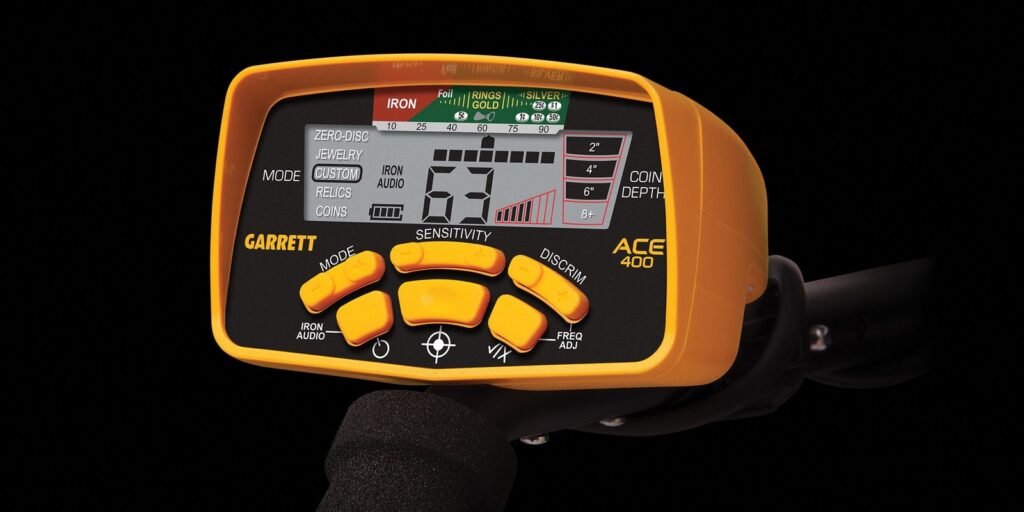 Overview of the Garrett ACE 400 Metal Detector
The Garrett ACE 400 Metal Detector is a top-of-the-line device created by one of the most reputable manufacturers in the industry. It is designed to provide users with an unmatched level of accuracy and efficiency in their treasure hunting endeavors. The ACE 400 operates on a 10 kHz frequency, allowing it to detect a wide range of targets, from small jewelry items to larger relics.
The metal detector features a large 8.5″ x 11″ PROformance™ DD search coil, which has been specifically engineered to provide enhanced depth and sensitivity. This coil is waterproof, enabling users to explore shallow water areas such as beaches and rivers. The ACE 400 also comes equipped with an adjustable frequency, allowing users to fine-tune their settings according to their specific needs and the type of terrain they are exploring.
Discovering the Features and Performance of the ACE 400
One of the standout features of the Garrett ACE 400 Metal Detector is its Iron Audio™ functionality. This feature allows users to hear discriminated iron targets, providing a clear distinction between valuable targets and unwanted scrap metal. This ensures that users can focus their efforts on valuable finds, significantly reducing time wasted on irrelevant items.
Furthermore, the ACE 400 boasts a Digital Target ID system, which provides a numerical scale from 0 to 99 to indicate the target's conductivity. This feature enables users to quickly identify the type of metal they have detected, helping them determine whether it is worth digging or not. Additionally, the metal detector offers five discrimination modes, allowing users to filter out unwanted targets and concentrate on specific types of metal.
The performance of the ACE 400 is nothing short of exceptional. It offers superior depth detection, allowing users to explore deeper into the ground and discover hidden treasures that may have been overlooked by other detectors. The metal detector also comes with an adjustable frequency feature, which can help eliminate interference from other devices or environmental factors, resulting in a clearer and more accurate signal.
In conclusion, the Garrett ACE 400 Metal Detector is a remarkable piece of equipment that brings metal detecting to a whole new level. With its advanced features, such as the Iron Audio™ functionality and Digital Target ID system, users can easily distinguish between valuable targets and unwanted junk. The ACE 400's performance is unmatched, providing exceptional depth detection and precise target identification. Whether you are a seasoned treasure hunter or a beginner, the Garrett ACE 400 is sure to enhance your metal detecting experience and unearth hidden treasures like never before.
| | |
| --- | --- |
| Brand | Garrett |
| Color | Gold |
| Batteries Required? | Yes |
| Material | Metal |
| Power Source | Battery Powered |
| | |
| --- | --- |
| Brand | Garrett |
| Color | Gold |
| Batteries Required? | Yes |
| Material | Metal |
| Power Source | Battery Powered |
| Item Weight | 7.69 Pounds |
| Item Dimensions LxWxH | 21.6 x 14.4 x 6 inches |
| Adjustable Length | Yes |
| International Protection Rating | IP54 |
| Operating Frequency | 10 KHz |
| Product Dimensions | 21.6 x 14.4 x 6 inches |
| Item Weight | 7.69 pounds |
| Manufacturer | Garrett |
| ASIN | B01LWOK3W5 |
| Item model number | 1141260+1140900+1608700 |
| Batteries | 4 AA batteries required. (included) |